Cadbury Silk Chocolates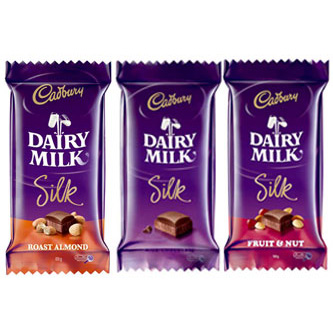 Buy Cadbury Dairy Milk Silk Chocolate online.

Gift Box contains

*Cadbury Dairy Milk Silk Chocolate
*Cadbury Dairy Milk Fruit N Nut Silk Chocolate
*Cadbury Dairy Milk Roast Almond Silk Chocolate
Total Chocolate Weight : 145gms x 3 = 435gms

*Cadbury Dairy Milk Silk Chocolate will be packed in an attractive reusable paper gift box



3 Nos
₹ 980
Add to Cart
Lindt Swiss Premium Chocolate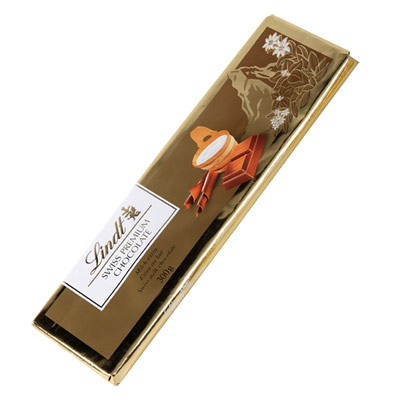 Lindt Gold Bars are a larger-format SWISS CLASSIC Milk Bar created with original Swiss chocolate recipes, developed with passion and dedication by LINDT Master Chocolatiers since 1845. An ideal gift for milk lovers.

Available in 300g format.

We source it from Dubai Duty Free every alternate week.


1 Nos
₹ 1330
Add to Cart
16 Pcs Ferrero Rocher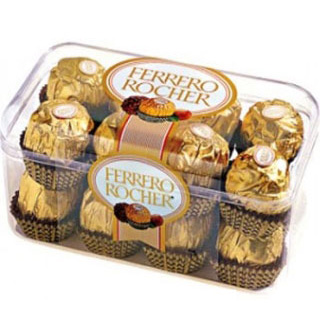 Ferrero Rocher is a spherical chocolate sweet made by Italian chocolatier Ferrero SpA, the producer of Tic Tac and Nutella. Introduced to the world in 1982, the chocolates consist of a whole roasted hazelnut encased in a thin wafer shell filled with hazelnut cream and covered in milk chocolate and chopped hazelnuts and walnuts.

The sweets each contain 73 calories, and are individually packaged inside a gold-colored wrapper. This chocolates are made in Italy



1
₹ 910
Add to Cart
Cadbury Temptations Chocolates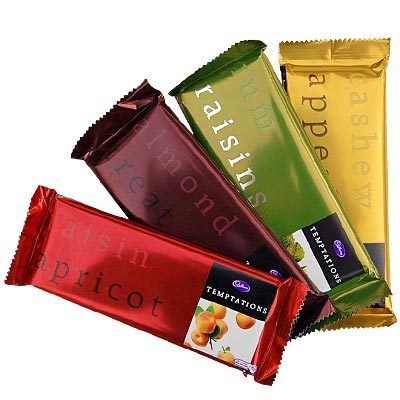 This Cadbury Temptations Chocolate Gift Box contains :

1 Cadbury Temptations Raisin Apricot Chocolate(72 gms)
1 Cadbury Temptations Almond Treat Chocolate(72 gms)
1 Cadbury Temptations Rum Raisin Chocolate(72 gms)
1 Cadbury Temptations Cashew Appeal Chocolate(72 gms)
Total Chocolate Weight : 72 gms x 4 = 288gms
Cadbury Temptations Chocolates will be packed in an attractive reusable Paper Gift Box
Free Delivery of this Chocolate Gift in India


4 Nos
₹ 980
Add to Cart
Toblerone Milk Chocolate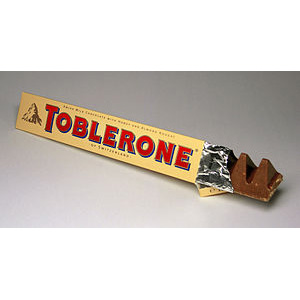 Smooth Milk chocolate with Honey and Almond Nougat. Toblerone is unique in many ways from its manufacturing, recipe, shape, logo and even licensing. Made from the finest ingredients, Toblerone is manufactured exclusively in Bern, Switzerland.

This chocolate production center is constantly being updated and improved making it one of the most modern factories in the world. Available in gift pack of 6 bars 100gram each

Toblerone includes the finest quality cocoa beans, milk, and sugar, but adds honey and almonds.

This unusual recipe helped develop the bar's name. Toblerone is a combination of the name Tobler, for the inventors, and the word "Torrane," which is an Italian nougat specialty of almonds and honey.

We only use the finest, top grade chocolates throughout our entire range yet still we maintain incredibly low prices.

At VasaiFlowers you can be assured of not only Exceptional prices, but Exceptional service also.






1 Nos
₹ 602
Add to Cart
24 Pcs Ferrero Rocher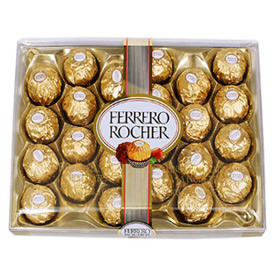 Ferrero Rocher is a spherical chocolate sweet made by Italian chocolatier Ferrero SpA, the producer of Tic Tac and Nutella. Introduced to the world in 1982, the chocolates consist of a whole roasted hazelnut encased in a thin wafer shell filled with hazelnut cream and covered in milk chocolate and chopped hazelnuts and walnuts.

The sweets each contain 73 calories, and are individually packaged inside a gold-coloured wrapper. This chocolates are made in Italy



1
₹ 1330
Add to Cart
Kit Kat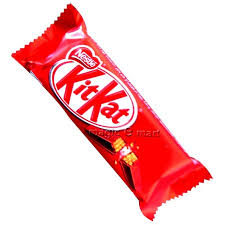 Kit kat minimal. 10Rs


1 Nos
₹ 10
Add to Cart
Our Specials
Contact Us
Phone: +919653366306
Email: gift@vasaiflowers.com
Address:
#2, Hajimiya Manzil,
Opp. MM Restaurent,
Bolinj,
Virar West, 401301